Google is making a big show of its first foray into the gaming sphere. They're doing something that has never been done before. Create a console that is not a console, but something you can experience anywhere with an internet connection. Cloud-gaming and streaming services will be the future of gaming and Google are trying to get in on the ground floor with Google Stadia. Here are all the details you need.
Google Stadia will launch in November in the following countries: Belgium, Finland, Canada, Denmark, France, Germany, Ireland, Italy, Netherlands, Norway, Spain, Sweden, United Kingdom, and the USA. As you can see, South Africa is not on the list so we're not going to be seeing the service until Google decides to expand to our very internet poor country.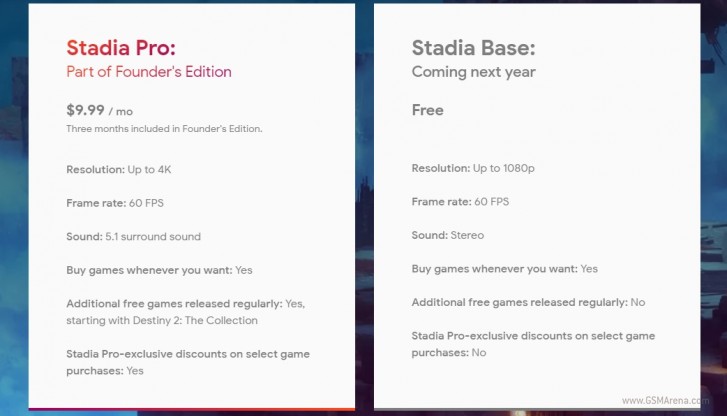 Two plans will be available on Google Stadia namely Stadia Base and Stadia Pro. Stadia Base is free but will only be available in 2020 which leaves the $9.99 Stadia Pro option as the only option for now. With the Base version, you get just 1080p game streaming whereas Stadia Pro will offer 4K/60fps HDR streams as well as surround sound.
The $9.99 option is just to use Stadia, it doesn't actually include games. You still have to buy the games at full retail just like every other console does. You won't be able to rent games either. Google has promised "additional free games released regularly" as well as "exclusive discounts". Destiny 2: The Collection will be the first free game that is included with the subscription. So while the service at launch will be just you paying for the service, thankfully some incentives will be thrown into the mix later down the line.
It was claimed that Stadia needs about 35 Mbps to fully stream games at 4K/60fps, but you can also stream games on as little as 5 Mbps which is pretty impressive considering the process involved.
Google Stadia is not a physical console. You will be able to play games on the Chrome Browser, on your TV with Chromecast Ultra or on Google's Pixel phones. The controller is sold separately at $69 and comes in a range of colours. There is a $129 "Founder's Edition" which includes both the Stadia controller and a Chromecast Ultra that you may use at your leisure as well as a buddy pass that will give a friend a 3-month subscription to Stadia Pro.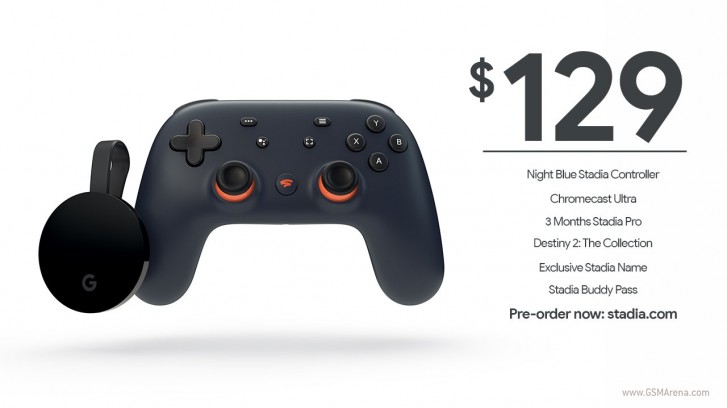 As for games, we have a list of publishers who have stated that they're on board. Thanks to The Verge for the list:
Bandai Namco – Dragon Ball Xenoverse 2
Bethesda – DOOM Eternal, DOOM 2016, Rage 2, The Elder Scrolls Online, Wolfenstein: Youngblood
Bungie – Destiny 2
Capcom -TBD
Coatsink – Get Packed (Stadia exclusive)
Codemasters – GRID
Deep Silver – Metro Exodus
Drool – Thumper
Electronic Arts – TBD
Giants Software – Farming Simulator 19
Larian Studios – Baldur's Gate 3
nWay Games – Power Rangers: Battle for the Grid
Rockstar Games – TBD
Sega – Football Manager
SNK – Samurai Shodown
Square Enix – Final Fantasy XV, Tomb Raider Definitive Edition, Rise of the Tomb Raider, Shadow of the Tomb Raider
2K Games – NBA 2K, Borderlands 3
Tequila Works – Gylt (Stadia exclusive)
Warner Bros. – Mortal Kombat 11
THQ – Darksiders Genesis
Ubisoft – Assassin's Creed Odyssey, Just Dance, Tom Clancy's Ghost Recon Breakpoint, Tom Clancy's The Division 2, Trials Rising, The Crew 2
And that's about it for Google Stadia at this time. It has some titles to its name such as Baldur's Gate 3 that will be exclusive on Stadia and PC, but it still has no true exclusive games. Obviously this isn't really going to affect us much since South Africa isn't on the supported countries list yet, but what Stadia is is our first look into gaming's future. We'll see come November what Google has to bring to the table.